Discover our historical and artistic heritage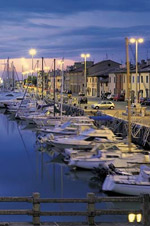 Thanks to its geographical location, culture, services, history and slow living rhythms, Pesaro is one of the first cities in Italy for the quality of life.
Since its ancient origins, dating back to the "Iron Age", the city has been enriched by a very important historical and artistic heritage: the Civic Museums, the Rossini's house, the Biblioteca Oliveriana, the Villino Ruggeri, the Rossini Theatre, Rocca Costanza , Villa Imperiale, the Cathedral of Santa Maria Assunta, the Jewish Synagogue are just a few examples.
These jewels have been completed by new buildings, some derived from ancient monuments, such as the Visual Arts Center (a former fish market), San Giovanni public library and the many modern art sculptures that enrich the city, such as the Big Sphere by Arnaldo Pomodoro, a characteristic bronze sculpture located at the heart of the promenade. The elegant historical center, where most of the monuments mentioned, offers visitors and citizens a pleasant atmosphere for a walk among the palaces, ancient churches, museums and shops.
Another important area is the sea area, consisting of no less than 7 miles of white sandy beaches, equipped or free, enclosed between the San Bartolo hill and the Ardizio hill (Pesaro is awarded the Blue Flag certification every year since 2005) and the charming promenade, where you can admire the beautiful buildings dating back to the Belle Epoque as the Villino Ruggeri, or the famous "Pomodoro's Sphere" at the center of the promenade. Moving in the city is simple and pleasant, thanks to the measured size of the city, the presence of parkings in the sea area, hundred miles of bike trails that connect all areas of cultural and tourist interest and a well-organized network of public means of transport. Enchanting medieval and Renaissance towns, ancient villages and territories of great value, such as Gradara, Casteldimezzo, Urbino, Mondaino, San Leo, are also easily accessible by car.
PESARO AND MUSIC
Music has always been a major leading sector for the city of Pesaro, mainly due to Gioachino Rossini's contribution, which has given the city an international reputation through a real itinerary dedicated to him. Starting from the Rossini's house, in which prints, engravings, portraits and sheet music of the great composer are collected, you can reach the Conservatory, one of the oldest in Italy, strongly supported by the "Maestro" where he could cultivate and train future artists.
The theater, which opened in 1637 under the name of "Theatre of the Sun", was dedicated to Gioachino Rossini in 1855 and is the largest demonstration of music in the city, in particular thanks to the Rossini Opera Festival. Its last renovation dates back 2002.
Recently opened, the Library of the Rossini's foundation houses the critical edition of the composer's works and a wide bibliography of Rossini's literature.